Merino wool is nature's finest performance fabric, able to fight odor, wick moisture, regulate body temperature, and protect you from the sun's UV rays from sunrise to sunset.
We're not saying merino wool is magic. But we're not saying it isn't, because when you weave merino wool into a t-shirt, it's a magical experience.
Merino wool t-shirts are incredibly versatile, equally comfortable in cool and warm weather. The surface repels water while simultaneously pulling moisture into its core, creating a dry body climate that cools you down in the heat and insulates you in the cold.
Merino wool is also naturally antimicrobial. Combined with its moisture-wicking properties, that means merino wool t-shirts resist odors.
There are stories of people wearing their merino t-shirt for a week without washing it, claiming it smelled just as fresh on day one as it did on day seven.
I know — magic, right?
We're not even finished. Merino wool is naturally springy and luxuriously soft. The fabric is renewable, biodegradable, fire resistant, and hypoallergenic.
Merino t-shirts also hold their shape better and don't stretch out, so they're built to last longer than a cotton shirt.
In short, everyone should have a merino wool t-shirt in their wardrobe.
Merino Wool T-Shirts
Here's a look at 3 of our favorite options for 2020.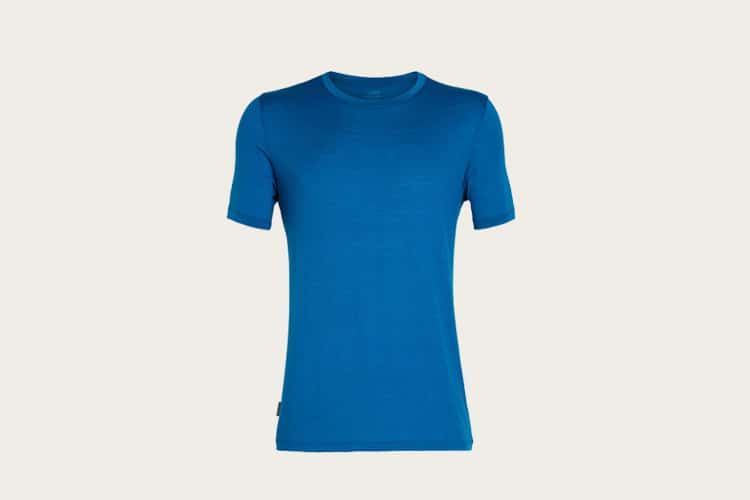 Icebreaker Tech Lite T-Shirt
Editor's Choice
Ideal for outdoor adventures – think hiking, camping and backpacking – that require superior moisture wicking and comfort.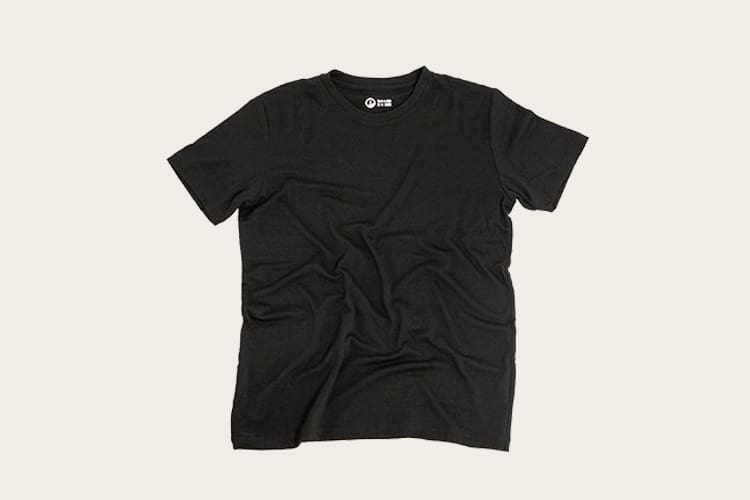 Outlier Ultrafine Merino T-Shirt
Upgrade Pick
American-made quality shirts that work well in any season, anywhere.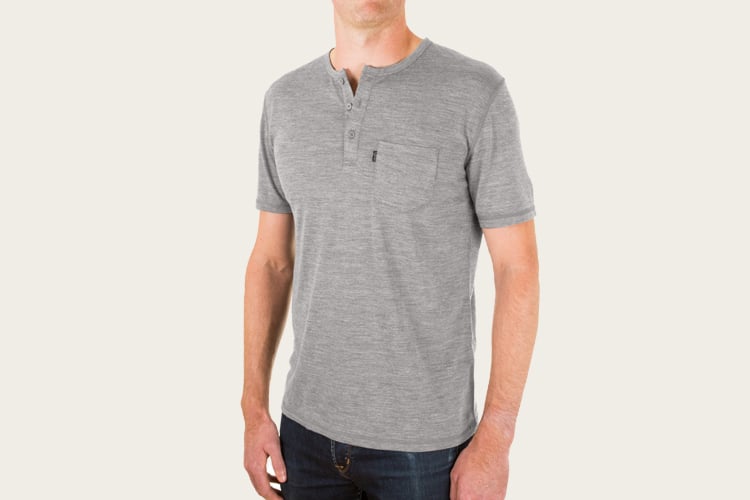 Woolly Everyday Weight Short Sleeve Tee
Affordable versatility for work, play and more – all without sacrificing style and quality.
See Amazon Deals
In fact, make that two — a lightweight option for outdoor adventures, and a heavier, fashionable one that you can pair with a blazer for casual Fridays at the office.
Now that you're sold on buying one (or two), let's talk about our favorites.
Here's a list of the best merino wool t-shirts on the market, from budget-friendly buys to luxury upgrades and everything in between.
Editor's Choice: Icebreaker Tech Lite T-Shirt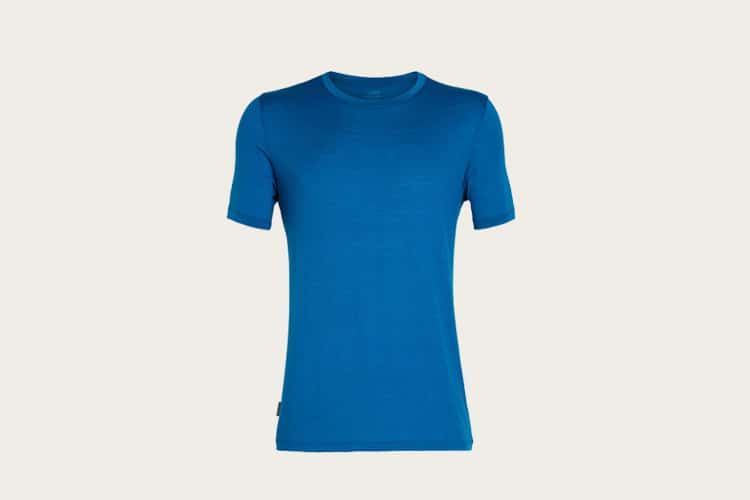 The Icebreaker Tech Lite is the perfect merino wool t-shirt for outdoor adventures. Whether you're backpacking, mountaineering, climbing, or skiing, this premium t-shirt delivers the breathability, odor resistance, and quick-drying performance you need for a comfortable base layer.
The Tech Lite t-Shirt features Icebreaker's core-spun fibers — nylon fibers wrapped in merino wool for optimal durability, strength, and softness. Backpackers will especially appreciate the offset shoulder seams that reduce chafing when carrying a pack.
In addition to the standard crew neck, the Tech Lite t-Shirt is also available in V-neck, patterned, and graphic print styles. We're fans of the Tech Lite Crewe Canoe Companions T-Shirt, a fun graphic print that's sure to get a few laughs on the trail.
Editor's Choice: Black Diamond Rhythm Tee
Wait, two Editor's Choice awards? That's right — both of these shirts deserve a place in your closet, because they each shine in different areas.
The Icebreaker Tech Lite T-Shirt is our favorite all-around merino wool shirt for style and versatility. But when it comes to high-output, sweaty outdoor activities, nothing beats the Black Diamond Rhythm Tee.
Built for freedom and mobility, the Rhythm Tee is the lightest technical merino wool t-shirt on the market. Thanks to Black Diamond's NuYarn merino wool fabric, the shirt breathes better, dries 5x faster, and has 35% more stretch than your average merino shirt. So, if you're looking for optimal sport performance while you're sweating it out on the trail, this is it.
The Rhythm Tee was actually designed with the help of ultra athlete Joe Grant. Of the Rhythm Tee, Grant says, "I always try to choose gear that I can forget about when I'm out in the elements and that doesn't hinder the experience. The Rhythm Tee is soft to the touch, very light and breathable, and has plenty of stretch."
Upgrade Pick: Outlier Ultrafine Merino T-Shirt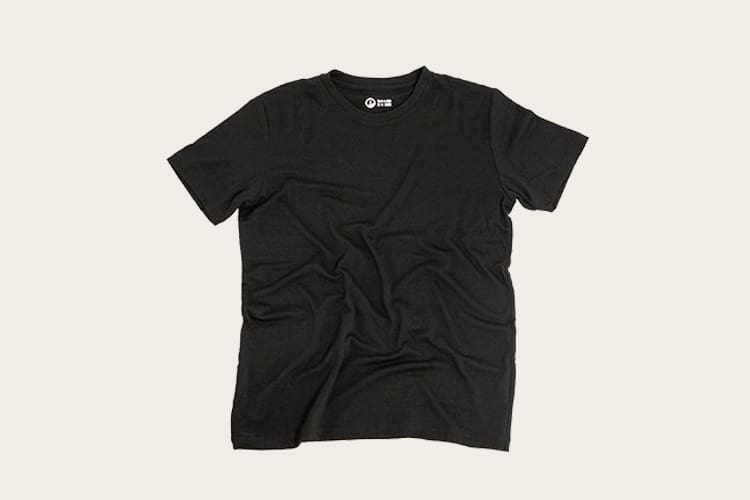 If you're going to splurge on a merino wool shirt, make it the Outlier Ultrafine Merino T-Shirt. Simply put, this is the finest merino wool t-shirt that money can buy.
What does this shirt offer to justify its premium price tag? For starters, the wool comes from the Mackenzie Basin in New Zealand, an area with a rich history in wool dating back two centuries. The shirts are audited and certified by AsureQuality to ensure a pristine supply chain, so you know you're getting a pure product from the farm to the factory.
Speaking of the factory, the Ultrafine Merino T-Shirt is manufactured in the San Francisco Bay area, so you're getting American-made quality.
The Ultrafine Merino T-Shirt features 17.5 micron merino fibers that are finer, softer, and more beautiful to the touch than standard merino. Outlier uses 195 gsm fabric instead of the standard 150-160 gsm fabric so that the shirt is more durable, drapes better, and feels more luxurious.
This shirt is geared for the fashion-conscious, featuring a moderately lean cut that's long enough to keep you covered while you're moving. This would be our go-to shirt for the airport and casual Fridays at the office, especially if you bike to work.
Check Current Price
Best Value: Woolly Everyday Weight Short Sleeve Tee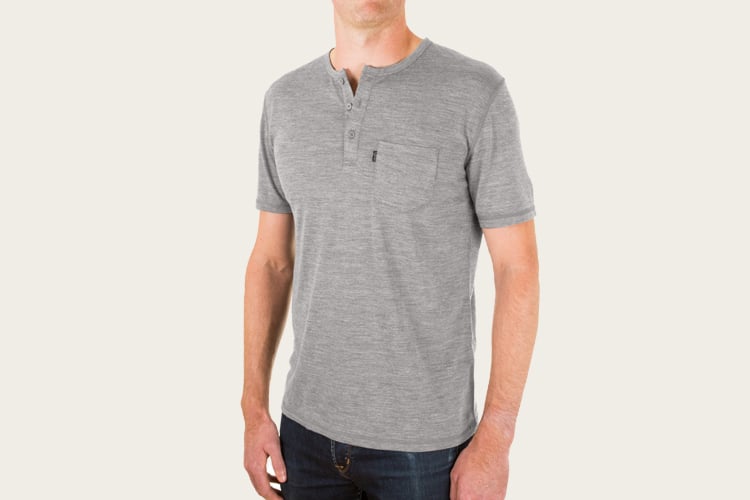 Looking for a 100% merino wool t-shirt?
Many top options on the market are a blend of wool and synthetic, but the Everyday Weight Short Sleeve Tee from Seattle-based Wooly Clothing Co. delivers 100% 18.5 micron merino wool.
The Everyday Weight Short Sleeve Tee is a versatile piece of foundation wear, equally comfortable as a standalone shirt or a base layer.
The simple, classic style is great for work, play, leisure, and travel in hot and cold climates. You'll enjoy four-season comfort thanks to the shirt's natural stretch, moisture-wicking properties, and odor resistance.
The Everyday Weight Short Sleeve Tee is available in three styles: crew neck, V-neck, and Henley.
If you find this 190 gsm shirt too heavy, consider trying the 150 gsm Ultralight Tee, which is also available in crew neck and V-neck styles.