Merino wool is one of the best fabrics for travel because of its unique ability to adapt to weather conditions, dry quickly, absorb odors, and feel comfortable on the skin.
When it comes to travel-ready fabrics, few are better than merino wool—especially if you prefer to avoid synthetics and stick to natural fibers. So, it may come as no surprise to learn that the travel-obsessed crew at Tortuga is into all things merino wool.
If you haven't already swapped some of your capsule wardrobe essentials for a merino wool counterpart, you might be wondering what the hype is all about, whether it's worth the (often high) price point, and which brands stand out as the best. Don't worry, we're here to help you wade through this wild world of wool with a list of the best merino wool brands for all types of travel clothes — from hoodies and t-shirts to dresses and skirts.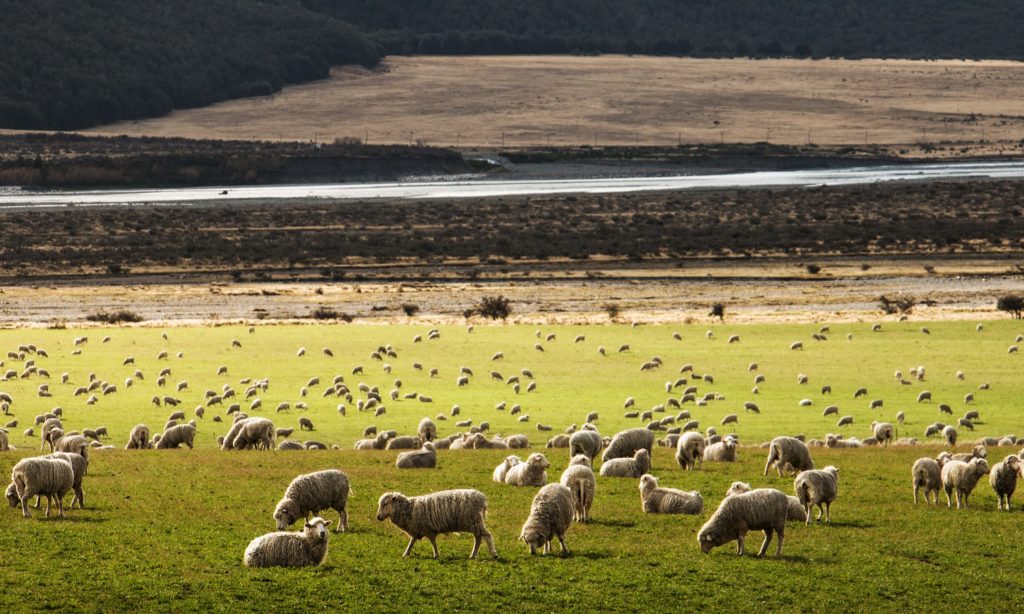 What is Merino Wool and Why Is It So Great?
Simply, merino is a type of wool that comes from merino sheep, who primarily live in Australia and New Zealand. Because merino wool comes from a specific breed of sheep, it's not quite the same as other wool varieties you might be more familiar with, such as shetland, lambswool, melton, or loden.
How is Merino Different From Regular Wool?
Like other types of wool, merino is sweat-wicking, breathable, and can adapt to different types of weather. Across all varieties, wool tends to be pretty warm, yet water-resistant (ever wonder why Norwegian fisherman have made it their de facto uniform?)
But merino clothes are quite different from those you'll find those seafaring Scandinavians sporting. Merino wool fibers are much finer than "regular" wool varieties, which gives it a softer texture and makes it lighter in weight. Merino wool is also quick-drying and much more odor resistant than other, more common fabrics, like cotton.
Is Merino Wool Itchy?
Unlike other types of wool, merino is not itchy or bulky. Merino is surprisingly soft and, depending on the brand and make of your merino clothing, can feel more like a regular t-shirt than a sweater. Personally, I have a hard time wearing 100% wool clothing because of its itchiness, but have never had a problem with merino wool.
You'll also notice that merino fabrics come in different weights. If the piece of clothing is made from a lighter weight merino, it will feel soft and more similar to a slightly coarse cotton t-shirt than a sweater. Heavier weight fabrics will feel more like a plush sweater-sweatshirt hybrid. Either way, it's comfortable.
Is Merino Wool Quick Dry?
Yes, merino wool is naturally moisture wicking and dries quickly. While it might not dry as quickly as some ultra technical synthetic fabrics, it does dry quicker than cotton and most other natural fabrics. For travel, you'll be able to wash it at night and have a dry t-shirt or pair of socks by morning.
Are Merino Wool Clothes a Good Base Layer?
Yes, absolutely. One of wool's superpowers (merino or otherwise) is that it acts as a cooling, sweat-wicking fabric in hot weather, but a warm, heat-absorbing fabric in cold weather, making it a versatile layer for multiple climates. Merino, of course, is thinner and less bulky than other wools, making it a wonderful option as a base layer for cold weather adventures.
Because of these characteristics, you'll commonly find merino in outdoors-wear, but these qualities also make it ideal for travel. Whether you want clothes that can go days without washing, or simply the perfect tee to take with you on a multi-climate trip, merino wool is up for the challenge.
Tip: Want a layer that can do it all? Look for a "lightweight" top—around 170-200g. It'll be the most versatile for a variety of climates.
Why are Merino Wool Clothes Great for Travel?
To put everything together, merino wool is a great travel fabric because it's:
Durable
Odor resistant
Water-resistant and sweat-wicking
Adapts to the weather
Quick-dry
Usually wrinkle-resistant
Natural
Unlike other types of wool, it is also:
Lightweight, and light to pack
Comfortable and not itchy
Best Merino Wool Clothing Brands
Not all merino is created equal. You'll find a mix of 100% merino and merino-wool blends on the market. Generally (though not always), blends will be a bit cheaper — and some of them still do a pretty good job compared to the 100% wool stuff.
Then, of course, there's the myriad of brands to sift through. Which ones are high-quality, have ethical practices, a good price, and actually look good? Start your merino wool shopping with these tried and trusted brands loved by the vagabonds here at Tortuga:
Western Rise
Best for merino wool tops, t-shirts, and long-sleeves
Has merino wool travel clothes for men
A Colorado-based company, Western Rise designs clothes that are meant for the outdoors — that is, if you consider the outdoors to begin as soon as you leave your house. They understand that a durable, quick-dry t-shirt that can wick away your sweat is just as useful on the trail as it is on your morning commute.
And it shows in their clothes, which combine fashionable, street-ready designs with made from functional fabrics. Merino fans should take a look at their line of tops and t-shirts.
Item to try: Strongcore merino tee ($96). Get out. Be active. Stay confident knowing this tee will never betray you with pit-stains or B.O., and keep you looking good from sunrise to well after sundown.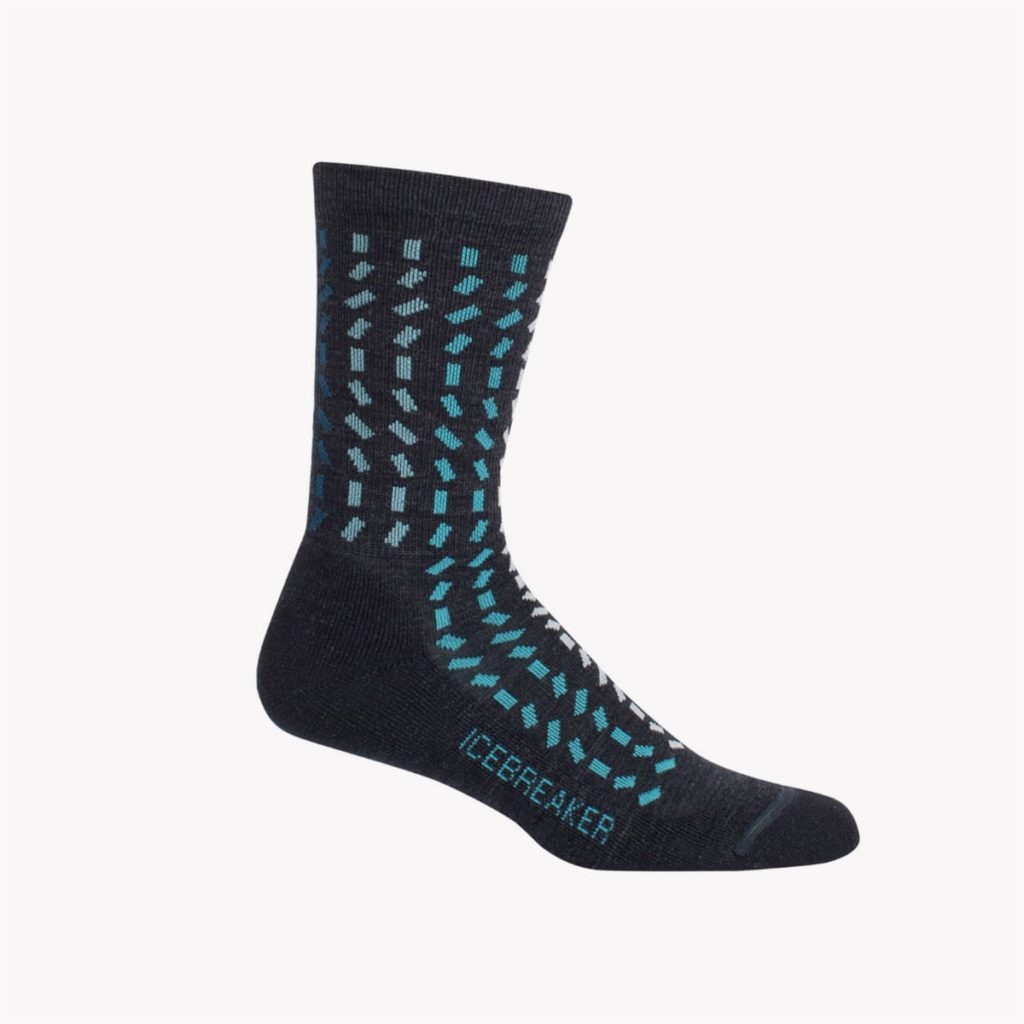 Icebreaker
Best for merino wool socks and base layers
Has merino wool travel clothes for women and men
If you've ever stepped foot in an REI, you've probably passed by something made by Icebreaker, including a wide variety of merino wool socks and base layers.
However, we mostly love them for their socks — their base layers sometimes fall apart after one season but their socks are durable, and odor resistant. "I can wear them for a couple of days in a row with no smell," says Tortuga's Angela Rollins.
Item to try: Socks ($16+) With a wide variety of cuts and colors to choose from, Icebreaker is one of the best brands for merino wool socks.
Darn Tough
Best for merino wool socks
Has merino wool travel clothes for women and men
While more outdoors ready than travel ready, Vermont-based brand, Darn Tough makes high-quality merino wool socks that can stand up to any active situation, in any climate. They may not make much more than socks, but with 40+ years of experience behind them, they do it well.
Item to try: Hiker Micro Crew Cushion ($22). Made from a merino, nylon, and spandex blend, these rugged socks stand up to the rigor of spending all day on your feet — whether it's in the woods or around town — while providing your feet with some much deserved cushiony comfort.
Buff
Best for merino wool headwear and scarves
Has merino wool travel clothes for women and men
When it comes to travel clothing, versatility is appreciated. Buff's line of "multifunctional headwear" made of merino wool is nothing if not versatile. While they don't make anything other than this miracle tube of fabric, their one-piece wonder can be used as a hat, scarf, face cover — and at least a half dozen other things.
Item to try: Merino Wool Multifunctional Headwear ($29+) Not sure if you'll need a hat or a scarf? Why not go for a piece that can be either?
Wool&
Best for merino wool dresses
Has merino wool travel clothes for women.
Sister brand to Wool and Prince, Wool& has just one product in their line up for now: a wear-it-anywhere swing dress that's available in several colors and striped patterns. Designed to be, "the most practical, most wearable dress in your wardrobe," this is a perfect go-anywhere travel dress. And: it has pockets. Yes.
For shirts, visit the women's section of Wool & Prince.
Item to try: Rowena Swing Dress ($128) Ladies, this straightforward swing dress can be dressed up or down for any occasion.
Civic
Best for merino wool tops, t-shirts, pants, boxers, and socks
Has merino wool travel clothes for men
As my Civic-wearing, merino-wool loving, better half explained: "I love Civic because their clothes look cool and they're really comfortable while biking." And hey, if it's comfortable to wear while riding a bike, you know it's going to work in any situation your travels throw at it.
Item to try: The Frank Chino ($128) or Merino Boxer ($55). For pants (and underpants) that breathe and move with you as you adventure, look no further than Civic's chinos and boxers.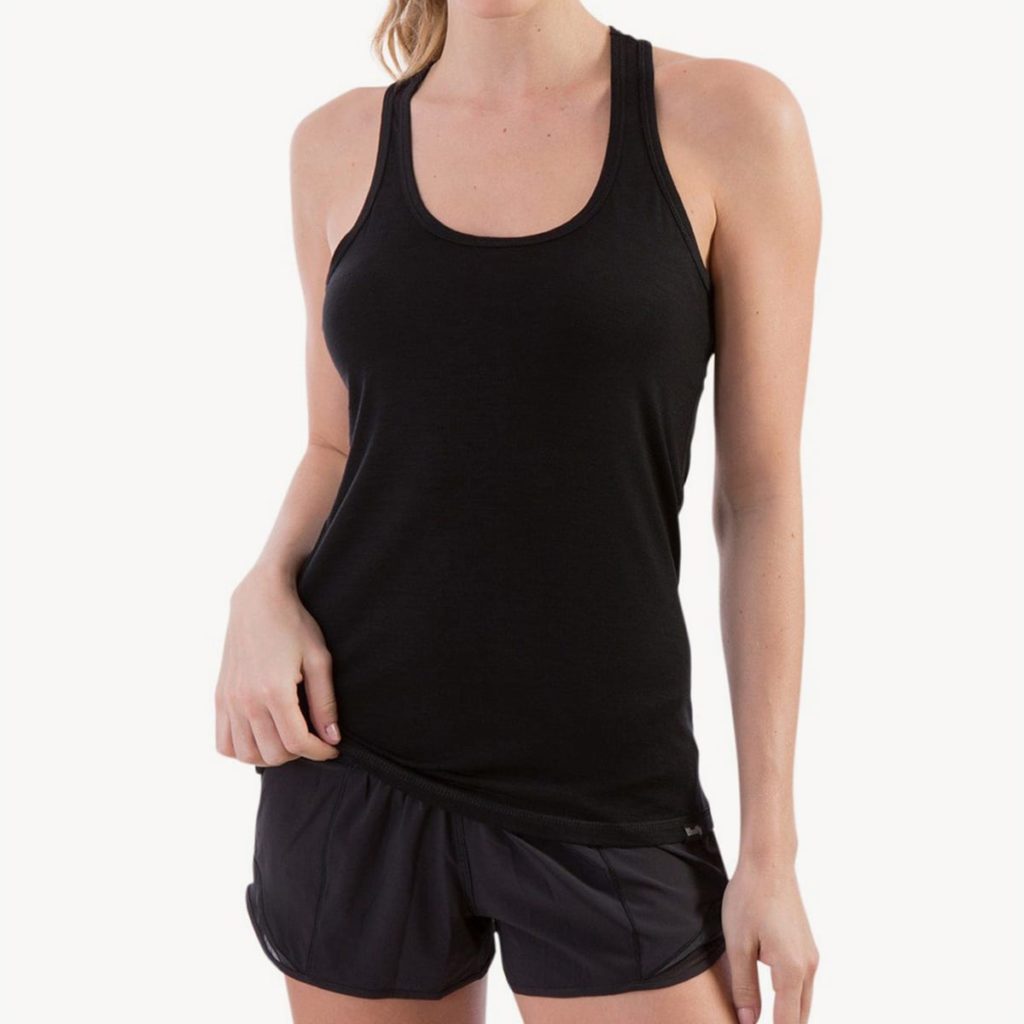 Woolly
Best for merino wool tops, bottoms, jackets, underwear, and socks
Has merino wool travel clothes for women and men
Just because you can't afford to spend $16 on a pair of socks or drop $90 for a t-shirt, doesn't mean merino clothing is out of reach. Seattle-based Woolly makes high quality merino clothes more accessible to those on a budget with their comparatively affordable tees, tanks, and base layers. All are under $100 and some are even under $60.
Item to try: Women's Ultralight Tank Top ($40). This affordable, easy-to-layer basic is a great addition to any warm weather travel wardrobe—especially since it can stand up to sweaty, sun-filled days without needing a wash after one wear.
SmartWool
Best for merino wool tops, socks, underwear, and base layers (top and bottom)
Has merino wool travel clothes for women and men
We most often rave about Smartwool for their high-quality wool socks, and variety of designs — including some made specifically for travel. But they also make a solid line of lightweight and quick-dry base layers, underwear, and other accessories. Even more exciting, their latest line features 50% recycled merino wool.
Item to try: Women's PhD Pro Medium Crew Socks ($25). Whether it's a long-haul flight or a hike out in the cold, these socks always keep my feet cozy—sans weird sock smell.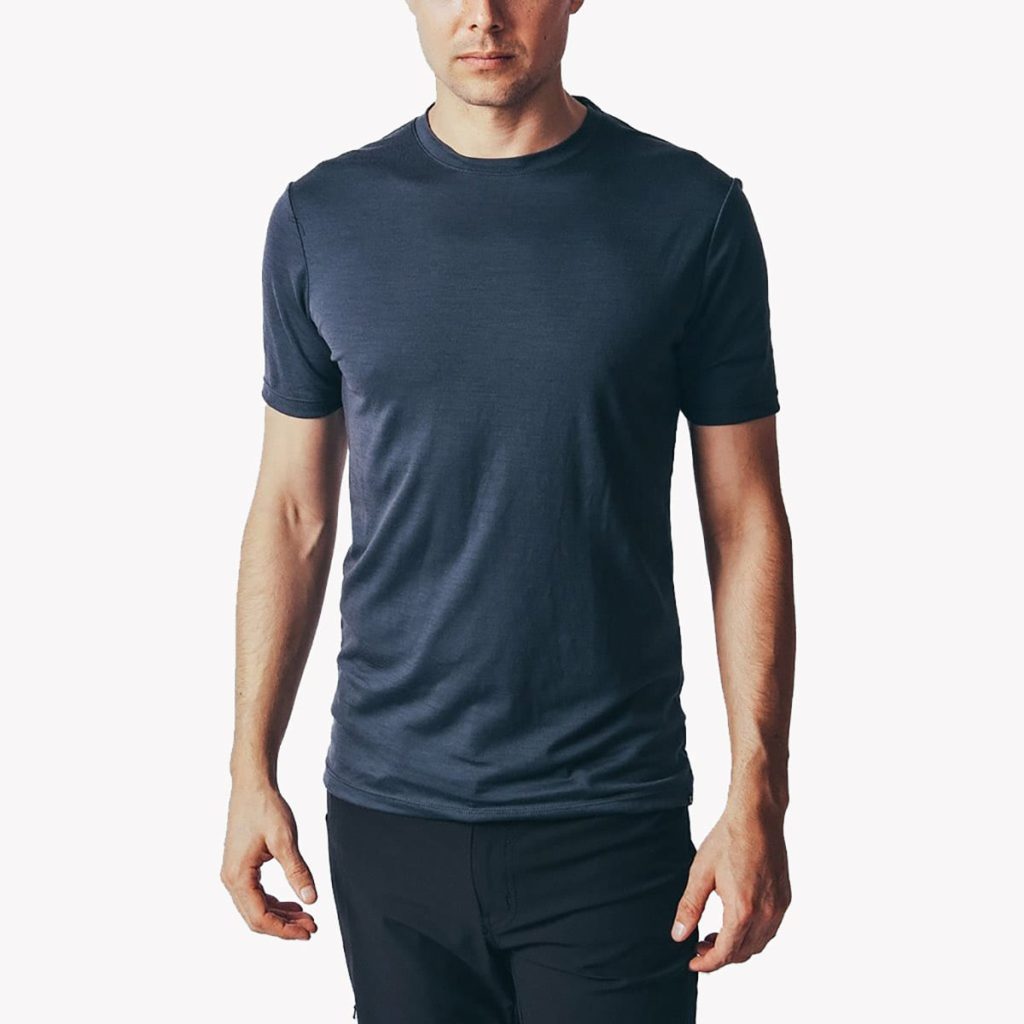 Mission Workshop
Best for merino wool t-shirts
Has merino wool travel clothes for women and men (but mostly men)
Cycling-inspired, Mission Workshop makes a great line of travel clothes for men, including their performance-ready yet stylish pants, shorts, jackets, and tops. And although they don't have as much of a focus on merino wool products as the other brands on this list, they do a few merino wool products worth checking out. Namely, their merino blend tees.
Item to try: The Sector t-shirt ($74). A sweat-wicking tee that also looks good? Heck yeah.
Patagonia
Best for merino wool basics and hats
Has merino wool travel clothes for women and men
Generally, we just love Patagonia. Not only do they make high quality performance and outdoors-wear, but they do it with a conscience. Their merino wool clothing is no exception. Patagonia only sources wool from farms with humane treatment of their animals, that have responsible land management, and can provide high-quality wool. Oh, and did we mention it looks good too?
Item to try: Air Crew for Men // Women ($129). Made from a blend of wool and polyester, Patagonia's Air Crew is a basic, fitted layer that can be worn on its own or layered under a coat for max coziness.
Minus33
Best for merino wool socks, base layers, underwear, and accessories
Has merino wool travel clothes for women and men
As far as merino goes, Minus33 is pretty affordable — and they don't sacrifice quality for it. All of Minus33's outdoor-ready lines are sturdy, well-made, and fit well. Their base layers and travel socks are fitted, without being too tight, and comfortable. Many of their clothes also have UV protection, which is beneficial for outdoors adventures, or just long days out and about.
Item to try: Midweight wool bottom for women ($66). These 100% merino wool bottoms are 230g, which means they'll keep you warm as a cup of hot chocolate on your cold weather travels.
Wool and Prince
Best for merino wool blazers, boxers, dress shirts, and socks
Has merino wool travel clothes for women and men (very limited women's clothes)
While most other brands focus on merino wool products with an outdoorsy-focus, Wool and Prince has designed merino-based clothes meant for everyday and business occasions. From their won't-wrinkle-in-your-backpack-blazer and dress shirts, to their chinos, tanks, and t-shirts for layering, Wool and Prince provides quality wool products that won't make you look like you've just stepped off a trail.
For women, they do have a few items in their product line (though — as tends to be the case with travel and performance wear — much more limited than the men's line).
Item to try: Wool Blazer ($258).Guys, this blazer will make you wonder why you ever settled for those other stiff, easily wrinkled, other blazers.
Unbound Merino
Best for merino wool t-shirts, hoodies, socks, and underwear
Has merino wool travel clothes for women and men (only has travel t-shirts for women)
While many of the brands on this list have designed their clothes with outdoor adventures in mind, Unbound Merino's clothes are primarily designed to help you travel, and with less. (Dare we say, we've found a kindred spirit in another brand who also embraces minimalism and packing light?) Made for travelers, by travelers, Unbound Merino's clothes combine the best of style and function, making them an ideal choice for your next trip.
Item to try: Compact Travel Hoodie ($165). It's the perfect travel hoodie. Warm when it's cold, breathable when it's hot, and always, no matter what, soft and comfy.  Also: this is Shawn's top pick for a travel sweater.
Allbirds
Best for merino wool shoes
Has merino wool travel clothes for women and men
Yep. That's right. The shoe that's taken over San Francisco is made of merino wool. Although these shoes aren't technically clothing, the quality, comfort, and odor-resistance of Allbirds' sneakers and loungers have earned them a place on our list. Just think: how many sneakers can you actually wear comfortably, and stinky-feet-free, without socks? Now there's at least one.
Item to try: Classic Runners for Women or Men ($95) Allbird's originals are comfortable, stylish, and stench-free, which makes them a wonderfully versatile sneaker for any type of travel.