Merino wool t-shirts have achieved cult status amongst hikers, backpackers, and ultra-minimalist travels, because they pack down well, and their performance qualities mean that you can reuse them day after day without odor.
In fact, in extreme conditions, experts caution that "cotton kills", and advise wool as a base layer.
Antibacterial Properties
We all hate stinking, don't we? But when you have to go without a shower for days, it is highly unlikely that you won't experience foul odours and pools of sweat. However, if you wearing a merino wool t-shirt, you don't have to worry about the smell. You see, merino wool has a very high-resistance towards bacteria thanks to the lanolin wax in wool, which is antibacterial, allowing you to remain odour-free. So, even if you wear one shirt for a fortnight without washing it or taking a shower, it still won't smell.
Highly Insulating
Ultra-fine merino wool is full of air pockets that trap air around your body. This insulating effect will keep you warm when it's cold outside. On the flip side, however, it will also keep you cooler in warmer climates. This "regulating" effect even works when merino is wet. This has spawned the phrase in outdoors communities that "cotton kills", as you'll start to lose body heat if your cotton clothes get wet.
Natural Wicking
Merino wool doesn't allow any kind of moisture to permeate the fabric and make its way towards your skin due to its natural wicking properties that come from certain fatty acids. Unlike synthetic fibers, merino wool doesn't repel the water, it absorbs it from the fibers and swells up. Regardless of whether you're sweating head-to-toe or it's raining hard on the terrain, merino wool t-shirts will feel dry as they will protect your body against all kinds of moisture, which also allows them to be warm and comfy.
Baselayers made out of merino wool are particularly effective because the #1 job of a base layer is to keep you dry.
Biodegradable
Merino wool is a 100% natural fabric, and unlike most factory-produced fabrics, it is biodegradable, which basically means that it is derived from nature and it returns back to nature.
Cut and Style: The Features To Look For in Your Merino Wool T-Shirt
The Fit: typically, t-shirts can have a relaxed fit or a tighter body fit. The more relaxed the fit, the harder it is to layer it under an additional layer, while you can wear a very thin layer under several other layers.
Engineered Mesh Construction: often this can be side panels or on the back placed in high-sweat areas to help ventilation and breathability. This can be good for when training or hiking with a backpack.
Raglan Sleeve: for better mobility and less chafing while carrying a backpack.
The Neck Line: whether you prefer a crew neck, a V-neck or a boat neck, it mostly comes down to what is the most flattering for you and what is the most convenient when it comes to your layering strategy with the rest of your outfit.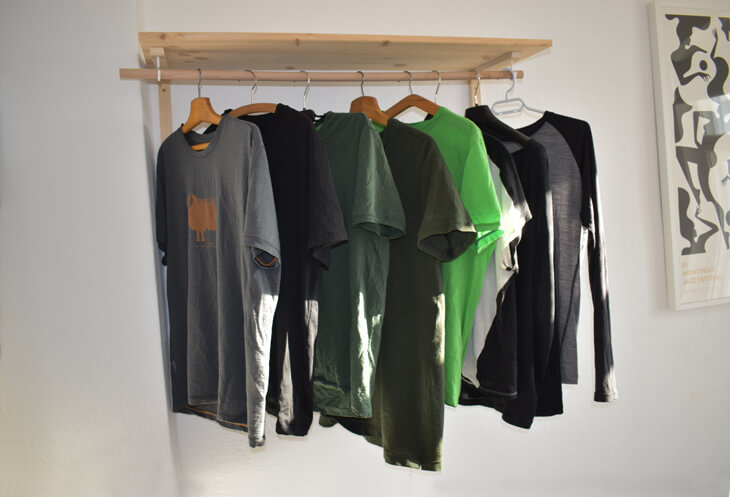 The Best Contemporary Everyday Merino Wool T-shirts for Men
These are perfect for wearing in your day-to-day life. The best you can pick out for your backpacking trips, sightseeing, and contemporary casual wear, or even for the office. These incredibly soft t-shirts feature a versatile design, with quality that is suitable for all kinds of activities and occasions.
TOP PICK FOR MEN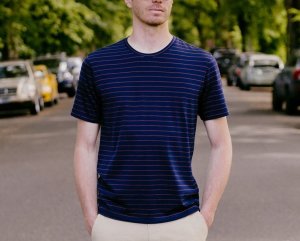 Material: 78% merino wool, 22% Nylon
Wool weight: 17.5 micron (the lower, the softer)
Construction: 160 g/m²
Made for: Casual business wear
Fit: Slim, Regular
Care: machine washable, gentle cycle on cold
Price: $68
The only reason this one did not make it our top pick is because Wool&Prince did not fully crack the 100% merino wool t-shirt as their model needs to be hand-washed for durability reasons. They came up with a unique technique to blend their wool with nylon to be truly durable and travel-worthy. It exists in many colors as well as v-neck cut and is machine wash cold.
See on Wool & Prince
---
Also great: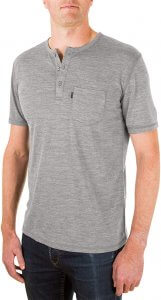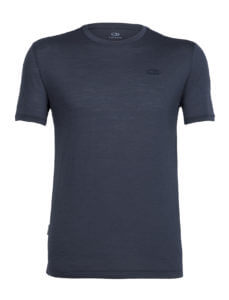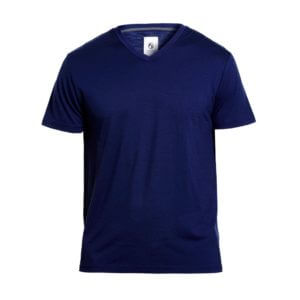 ---
ULTRA HIGH END PICK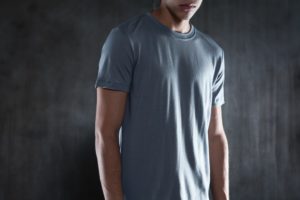 Material: 100% Merino
Micron: 15.5 (the lower, the softer)
Fabric weight: 205g/m²
Care: machine washable – dry flat
Best for: Everyday urban wear
Price (estimate): $148
For one, it is made of 100% wool. And they have nailed it. In top of all the benefits of merino wool (not stinking, drying fast, etc), it also doesn't pill. I also haven't made a hole in it despite putting it under intensive tests over the last 6 months. Finally, it is also machine washable!
One thing is that the fabric weight, at 205gsm, is heavier than most t-shirt, which gives it a draped, luxurious effect. While I was concerned it might feel too hot above 75 degrees Fahrenheit, this has not been the case.
Finally, the exceptionally low micron (15.5!) crowns it as the best high-end merino wool t-shirt in our eyes.
It exists in black as well as in a few other colors.